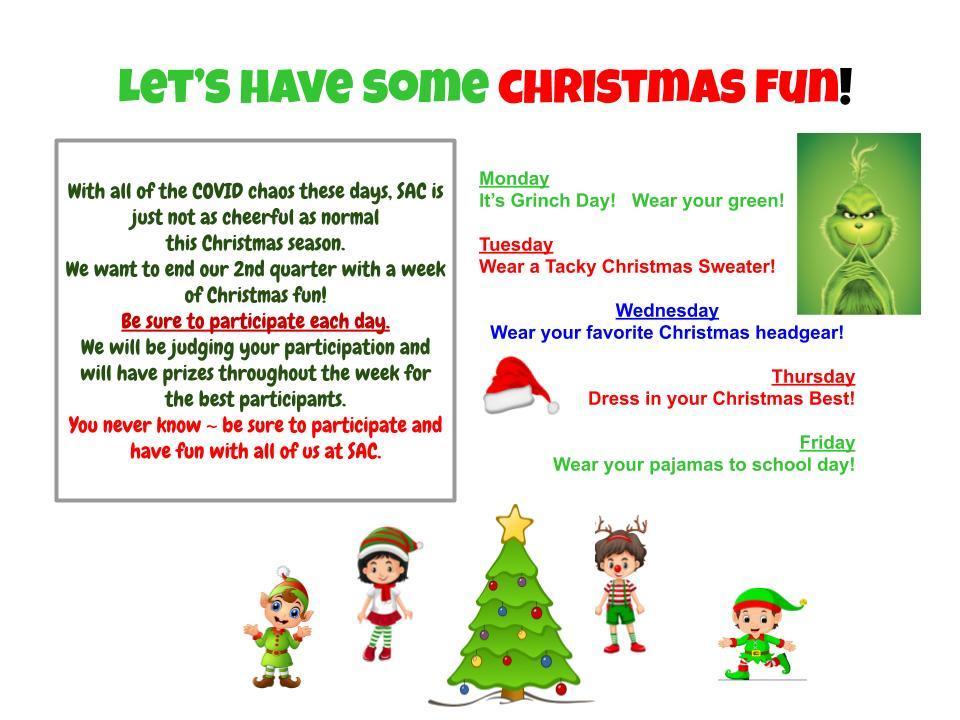 SAC Christmas Fun
Jennifer
Tuesday, December 08, 2020
This year has been very difficult for everyone with the COVID requirements and such. It has no only been hard for parents, teachers, and staff, but our students are struggling through this time as well. Here at SAC, we have our tree up, but it just isn't the same this year. We can't have the 4th grade make ornaments and place them on the tree. We cannot have a food drive like we have each year at this time. COVID has simply rocked our world here at SAC and we believe it is time for some Christmas cheer!
One of our teachers here at SAC, Ms. Bailey, thought we should have some Christmas fun the week before Christmas break. As you can see, we are going to have a week of Christmas fun dressing up to celebrate the holidays. We want to make sure everyone participates. We will be judging on certain days to reward those who really share their Christmas spirit with SAC. Stay tuned for some fun pictures and the winners throughout the week.

We want to end our second quarter with a wonderful week of fun! SAC can hardly wait!