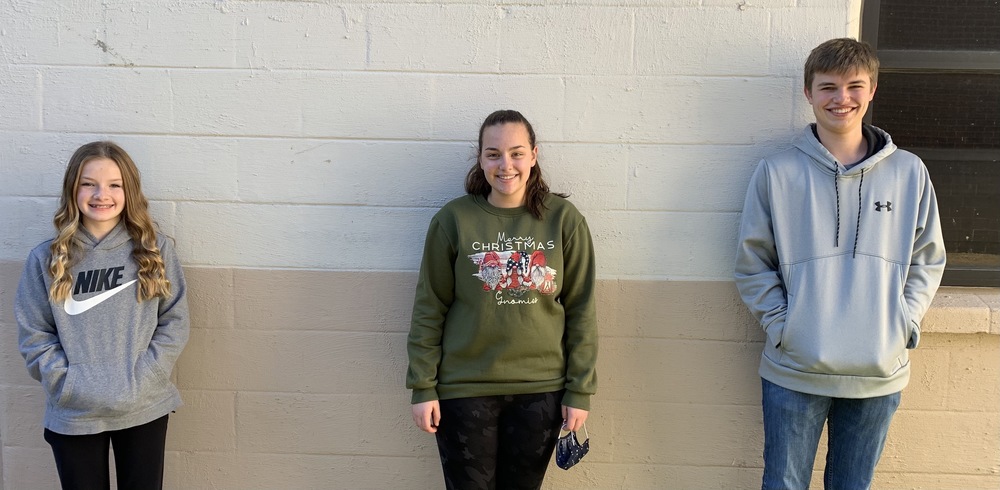 Red Hill Jr. High & High School Students Place in the Lawrence County VFW Patriot's Pen & Voice of Democracy Essay Contests
Clarence Gross
Wednesday, December 16, 2020
Each year our Junior High and High School English/Language Arts Departments have our students participate in the Voice of Democracy (HS) and the Patriot's Pen (JH) Writing Contest for Lawrenceville VFW. Once again we were well represented in the final judging.
Voice of Democracy (High School)
Thomas Shinkle (Lawrenceville HS)

Emily Wirth (Red Hill HS)

Koltyn Loveland (Red Hill HS)
Patriot's Pen (Junior High)
Addison Dining (Red Hill JH)

Brenton Ash (Red Hill JH)

Lily Combs (Red Hill JH)
I would like to commend our students and teachers for once again securing most of the places in the contest and performing very well.
Pictured (Left to Right) Addison Dining (1st Place JH), Emily Wirth (2nd Place HS), and Koltyn Loveland (3rd Place HS). Not Pictured: Brenton Ash (2nd Place JH) and Lily Combs (3rd Place JH)